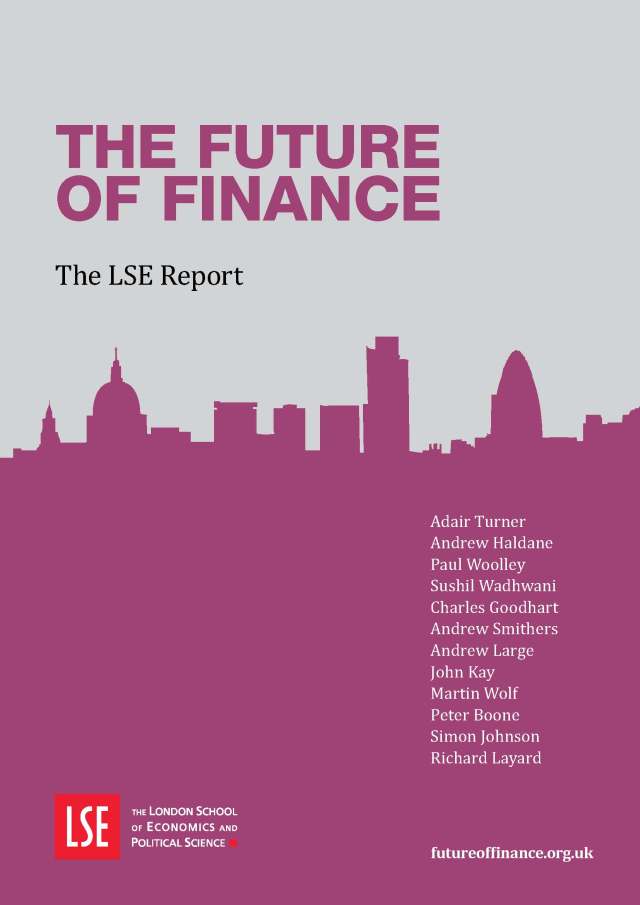 What is the financial system for?
What is the future of finance?
The LSE Report is published
 This book presents a novel approach to the reform of the world's financial system, starting with the basic question, what is a financial system for? It shows that the existing system has become far more complicated than it needs to be to discharge its functions – and dangerously unstable into the bargain. It proposes some drastic remedies.
The Future of Finance: The LSE Report is the work of a group of leading academics, financiers, journalists and officials from the UK's Financial Services Authority, the Bank of England and the Treasury. They met twelve times, for what many of those present described as the best and most searching discussions they had ever participated in.
The first author is Adair Turner, chair of the Working Party of the G20 Financial Stability Board reporting to the G20 Summit in November 2010; the others are major international players in policymaking or public debate.
"The UK has been at the epicenter of both the financial crisis and the ongoing debate over the future of finance. Here the leading figures in that debate tell us how to think about the process of financial reform. Their thoughts deserve the widest possible audience, not just in Britain but in the United States and globally."
Barry Eichengreen, University of California, Berkeley
"A preoccupation with public good is what distinguishes this book from others about the crisis. The authors take a broader perspective in exploring new approaches for understanding the functions of banks and financial markets. It is particularly refreshing to see the London School of Economics re-establishing its traditional leadership in social sciences research oriented towards social welfare advancement."
Jean Charles Rochet, University of Zurich and Toulouse School of Economics

"As we look forward to the reform of the financial system, there is a need for a more fundamental review of the nature of financial intermediation, its scope and size.  This volume is in the best traditions of the LSE in weaving together the perspectives of academics and policymakers to address a topic of great importance.  It is a must read for anyone who wishes to delve deeper into the policy issues."
Hyun Song Shin, Princeton University